FAVOURABLE DIETARY EFFECT AND AMINO ACID PROFILE, HIGH PROTEIN CONTENT
HIGH-PROTEIN SUNFLOWER MEAL FOR BROILERS
WITH 46% CRUDE PROTEIN CONTENT
Details
WITH HIGH DIGESTIBILITY AND FAVOURABLE PROTEIN CONTENT
HIGH-PROTEIN SUNFLOWER MEAL FOR SWINE
WITH 46% CRUDE PROTEIN
Details
WITH BALANCED FIBRE CONTENT FOR THE HEALTHY FUNCTIONING OF THE RUMEN
HIGH-FIBRE SUNFLOWER MEAL FOR RUMINANTS
WITH 20% CRUDE PROTEIN AND 40% CRUDE FIBRE CONTENT
Details
AN ESSENTIAL COMPONENT OF RABBIT COMPOUND FEED DUE TO UNIQUE FIBRE COMPOSITION
HIGH-FIBRE SUNFLOWER FOR RABBITS
WITH 20% CRUDE PROTEIN AND 40% CRUDE FIBRE CONTENT
Details
At Bunge we are dedicated to improving the agribusiness and food production chain from the agricultural producer's farm to the consumers' table.
Europe has witnessed the emerging of conscious consumer groups that make explicit demands for safe and GMO-free food from sustainable production and of European origin.
To fulfil these criteria we need protein sources that meet the above expectations – but the availability of such raw materials in Europe from local origin has been quite limited.
The SunPro® products offer an effective solution that satisfies these modern consumer expectations. The SunPro® 20 and 46 products comply with the strictest regulations; ISCC sustainability certified feed ingredients from domestic production made mechanically without chemical process.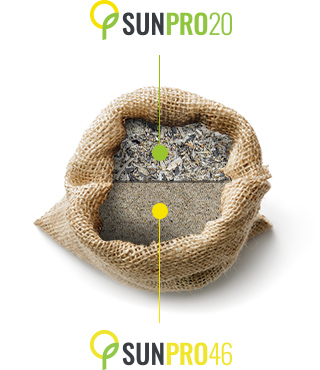 EU production

We manufacture SunPro®-20 and SunPro®-46 products in the European Union.
ISCC
certified*
Base material quantity needed for production of SunPro®-20 and SunPro®-46 products comes from sustainable source

*optional
Mechanically
produced
Produced 100% mechanically without any chemical processing