Fractionated, extracted
sunflower meal
At Bunge we are dedicated to improving the agribusiness and food production chain from the agricultural producer's farm to the consumers' table.
Europe has witnessed the emerging of conscious consumer groups that make explicit demands for safe and GMO-free food from sustainable production and of European origin. To fulfil these criteria we need protein sources that meet the above expectations – but the availability of such raw materials in Europe from local origin has been quite limited.
The SunPro® products offer an effective solution that satisfies these modern consumer expectations. Based on the results of extensive research we have set the nutrient composition of our products in a way to ensure a proper alignment with the nutritional needs of specific livestock and age groups. The new products go beyond bringing merely another commodity to the market: serving the specific needs of a distinctive consumer group, they offer a protein source with high added nutritional value and it may be also greatly used as a feed ingredient in GMO-free production.
Environmental consciousness, safety and sustainability
The SunPro® products are produced with a patented technology in a new and modern plant that guarantees to deliver controlled and steady quality using mechanical processes without the use of additives.
Our plant in Martfű, Hungary complies with the strictest international feed ingredients and food industry standards and it also meets the requirements of the following quality assurance and certification systems:
| | |
| --- | --- |
| ISO 14001 | Environment-focused management system certification |
| OHSAS 18001 | Workplace health protection and safety management system certification |
| IFS | International Food Standard |
| ISCC PLUS | International Sustainability & Carbon Certification |
| ISCC EU | International Sustainability & Carbon Certification |
| GMP+ | (Good Manufacturing Practices) international standard regulating the production of animal feeds |
| EFISC | European Feed Ingredients Safety Certification |
THE SUNPRO® PRODUCT RANGE
The SunPro® 20 and 46 products comply with the strictest regulations; ISCC sustainability certified feed ingredients from domestic production made mechanically without chemical process.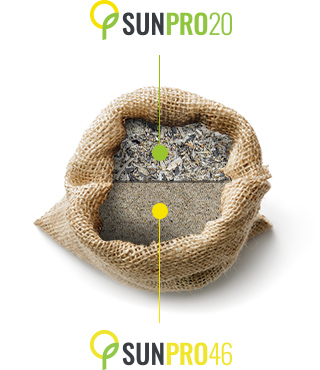 EU production

We manufacture SunPro®-20 and SunPro®-46 products in the European Union.
ISCC certified*

Base material quantity needed for production of SunPro®-20 and SunPro®-46 products comes from sustainable source.

* optional
Mechanically
produced
Produced 100% mechanically without any chemical processing